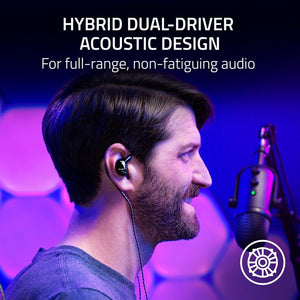 Razer
Razer - Moray Ergonomic In-ear Monitor for All-day Streaming - Black
If all-day streaming or gaming is your thing, go all-in with the Razer Moray—ergonomic in-ear monitors made for comfort over long sessions. With a hybrid dual-driver acoustic design and expert non-fatiguing tuning, experience high-fidelity audio as you entertain your fans, or game for hours on end.
All of the E-waste recycled in the US every year amount to more than 100 million pounds of materials, including plastics, metals, glass and other materials.
ESC refurbished product has been professionally restored to meet or exceed OEM quality and is in good working order. This means that each product has been thoroughly inspected, cleaned, and repaired to meet original manufacturer quality specifications. Each ESC Recertified product may or may not be in its original packaging.
30-day money back guarantee
Secure payment at checkout
YOU MIGHT ALSO LIKE