About Us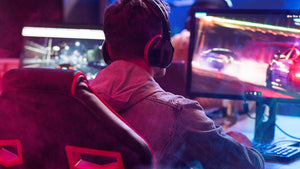 Gaming Is In Our DNA!
Esport Certified is a destination for gaming enthusiasts—a place for armchair generals, casual gamers, and everyone in-between who cares about getting the latest gaming equipment at affordable prices. Esport Certified specializes in offering certified, like-new products that make the digital (and physical) world a better place by giving gaming electronics a new life and reducing eWaste. Esport Certified is headquartered in Lake Forest, California, with North American distribution facilities located throughout the United States.
Our Philosophy
At Esport Certified, we believe in the power of esports to do good, have fun, and bring people together. Our intense focus on recertified gaming gear and electronics, ensures you can purchase like-new gaming gear and electronics at everyday guaranteed low prices from today's leading brands including Razer, SteelSeries, HyperX and more. From wearables and mechanical keyboards, you can buy it all on Esport Certified. How do we do good and keep prices low? By giving like-new products a second chance at life. Our recertified gaming equipment is better for you and better for the environment. Each product is professionally inspected and tested by Esport Certified team specialist to the exact specifications of our manufacturer partners. The product is 100% functional and comes with a 90-day warranty. Products may come packaged in a generic box instead of a branded box—a small price to pay when you think about the positive impact of purchasing recertified electronics.
e-Waste
E-waste, or electronic waste, represents just 2% of the trash in America's landfills, but makes up a whopping 70% of overall toxic waste. And a large number of what's labeled as "E-waste" is not waste at all, but rather functioning electronic equipment or parts that can be reused. What's the big deal with E-waste? It contains a long list of chemicals that are toxic to humans and the environment, like beryllium, lead, mercury, brominated flame retardants, and cadmium—all bad stuff. When electronics are disposed of improperly, these chemicals end up in our water, air, and soil. By choosing to buy recertified gaming equipment over brand new gear, you're taking a stand against E-waste. You're giving perfectly good electronics a new lease on life so they don't end up in a landfill. You're turning your passion for gaming into a power for good.