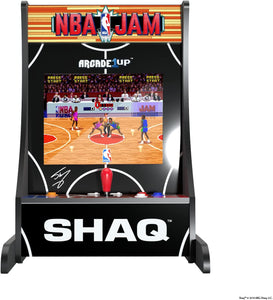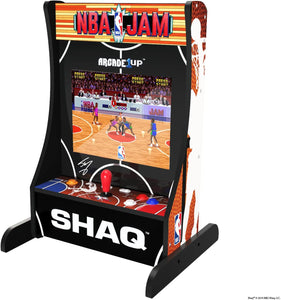 Arcade1up
Arcade1UP NBA JAM: Shaq Edition 3 games in 1 Partycade
Dunk on the competition with the new NBA JAM: SHAQ EDITION Partycade from Arcade1Up! Incredibly portable and incredibly fun. Partycades come out of the box fully assembled and can be hung on a door, mounted on a wall, or played on a tabletop with the included leg attachments. Featuring the same sized color LCD displays and controls as full Arcade1Up arcade machines, Partycades are designed to be easily installed (and moved!) in any home, apartment, dorm, RV and more. Play hoops with NBA legends such as Shaquille O'Neal and pull off some over-the-top shooting in this arcade classic. Jump clear across the court and set the ball on fire with Dominique Wilkins and the Hawks in one of the first sports games ever to feature real and digitized NBA-licensed teams and players! No fouls, no free throws, no violations (okay, except for goaltending and the 24-second shot clock), and so much more!
All of the E-waste recycled in the US every year amount to more than 100 million pounds of materials, including plastics, metals, glass and other materials.
ESC refurbished product has been professionally restored to meet or exceed OEM quality and is in good working order. This means that each product has been thoroughly inspected, cleaned, and repaired to meet original manufacturer quality specifications. Each ESC Recertified product may or may not be in its original packaging.
30-day money back guarantee
Secure payment at checkout
YOU MIGHT ALSO LIKE