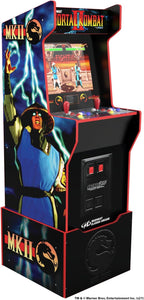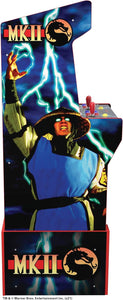 Arcade1UP
Arcade1Up Midway Legacy Mortal Kombat 4 Ft Arcade Machine with Riser
In-home retro arcade gaming fun - bring home this arcade classic 12 games in 1 - this coin-less operated arcade cabinet comes loaded with 12 iconic games: 1. Mortal Kombat2. Mortal Kombat 23. Mortal Kombat 34. Ultimate MK 35. Joust6. Defender7. Rampage8. Gauntlet9. Paperboy10. Rootbeer Tapper11. Bubbles12. Wizards of War Large Color 17 inch display - comes with a full Color 17 Display, real feel full-size joystick and buttons, and volume control. 3/4 scale and matching riser - assembled machine stands almost 5 feet tall with riser Dimensions are 45.8 H 57.8 H with riser x 22.75 D x 19 W. Midway Legacy Edition COKeM with Riser: Evolving from its 1958 beginnings as an amusement game manufacturer, Midway produced some of the hottest arcade games of the '80s and '90s, that have since been adapted into film, television, and much more. Their monsters-wreaking-havoc title Rampage was a giant early hit, and then leaps in live action digitizing technology led to Mortal Kombat, recognized as one of the most important titles in video game history. With it's over the top darkly humorous gameplay and finishing moves, Mortal Kombat became an instant franchise with iconic characters and enduring catchphrases. Twelve games, one cabinet, unlimited retro gaming fun. Add the Midway Legacy Edition to your home and have a BLAST anytimeno quarters required Brought to you by Arcade1Up, this is an absolute must-have for your family game room, game cave, or even in the office. Arcade1Up home arcade cabinets play great, look great, and are instant conversation pieces. And whoa, what a phenomenally eclectic game list this is. Mortal Kombat, Mortal Kombat II, Ultimate Mortal Kombat 3, Joust, Defender, Rampage, Gauntlet, Paperboy, Rootbeer Tapper, Bubbles, Toobin, and Wizards of Wor. ALL included. Switch up to any included game at will with the easy to navigate on-screen menus. Additionally, this Midway Legacy Edition includes a custom riser, if you need to give it some lift Iconic arcade games. Vibrant pop culture imagery that has stood the test of time. Nostalgia that transcends generations. We call this the Legacy Edition for a reasonmake that many reasons Games: Mortal Kombat Mortal Kombat II Ultimate Mortal Kombat 3 Joust Defender Rampage Gauntlet Paperboy Rootbeer Tapper Bubbles Toobin Wizards of Wor Specifications: Custom shaped Cabinet design 12 Games in 1 17 Color LCD screen Custom Riser Light-Up Marquee Printed Coin Door Graphic Kickplate Assembled Dimensions: 22.75 D x 19 W x 57.8 H 45.8 H without riser Box dimensions D x W x H 6.75 x 47.75 x 23.75 Weight: 79.5lbs Real-Feel Arcade Controls Coinless operation Adjustable Variable Volume Clear Deck Protector Anti-Tip Over Strap On-Screen Game Selection Menu In Game Settings Menu Plugs into an AC outlet Easy Assembly By Tastemakers, LLC Fully Licensed Legal: MIDWAY and all related characters and elements are trademark of and Warner Bros.
All of the E-waste recycled in the US every year amount to more than 100 million pounds of materials, including plastics, metals, glass and other materials.
ESC refurbished product has been professionally restored to meet or exceed OEM quality and is in good working order. This means that each product has been thoroughly inspected, cleaned, and repaired to meet original manufacturer quality specifications. Each ESC Recertified product may or may not be in its original packaging.
30-day money back guarantee
Secure payment at checkout
YOU MIGHT ALSO LIKE