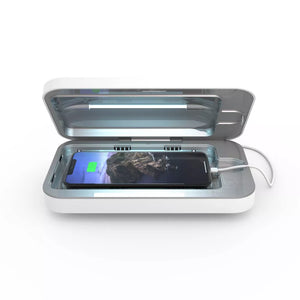 PhoneSoap
PhoneSoap Go Battery Powered UV Sanitizer White
The PhoneSoap Go makes it easy to sanitize and charge your phone wherever you may be – the train, a school library, a hotel room…the list goes on. This battery-powered unit ensures you aren't bound to the walls of your home to clean and charge your devices. The PhoneSoap Go provides a 99.99% kill rate as proven by third-party laboratories.
All of the E-waste recycled in the US every year amount to more than 100 million pounds of materials, including plastics, metals, glass and other materials.
ESC refurbished product has been professionally restored to meet or exceed OEM quality and is in good working order. This means that each product has been thoroughly inspected, cleaned, and repaired to meet original manufacturer quality specifications. Each ESC Recertified product may or may not be in its original packaging.
30-day money back guarantee
Secure payment at checkout
YOU MIGHT ALSO LIKE