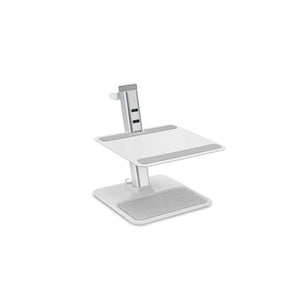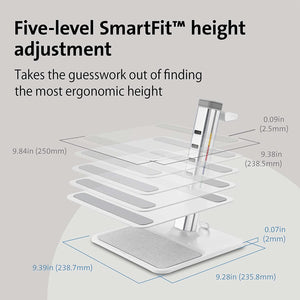 Kensington
Kensington - SmartView Organizing Laptop Riser - Silver
Designed for Surface and developed in partnership with Microsoft, the SmartView Organizing Laptop Riser is an all-in-one solution to manage your Surface desktop setup or any laptop up to 16". Features include five-level SmartFit height adjustment, which takes the guesswork out of finding the most ergonomic height; a hanger to keep your headset there when you need it, out of the way when you don't; fabric-covered docking station storage, which conveniently and neatly houses a number of Kensington and Microsoft Surface docking stations (to ensure accessibility to all ports, a 90-degree port adapter may be necessary for some docking stations); sturdy metal construction, to match the Surface look and feel, and for a solid, stable solution; cable management for a tidy desktop; a ventilated platform that promotes air circulation, optimizing device performance and battery health; easy assembly with included tools; and a non-slip rubber base.
All of the E-waste recycled in the US every year amount to more than 100 million pounds of materials, including plastics, metals, glass and other materials.
ESC refurbished product has been professionally restored to meet or exceed OEM quality and is in good working order. This means that each product has been thoroughly inspected, cleaned, and repaired to meet original manufacturer quality specifications. Each ESC Recertified product may or may not be in its original packaging.
30-day money back guarantee
Secure payment at checkout
YOU MIGHT ALSO LIKE