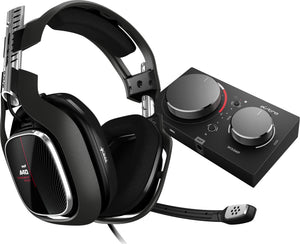 Astro Gaming
Astro Gaming - A40 TR Wired Stereo Gaming Headset with MixAmp Pro TR Controller for Xbox Series X|S, Xbox One and PC - Black/Red
The ASTRO A40 TR Headset + MixAmp Pro TR for Xbox One, PC and Mac is the premier audio solution for esports athletes, content creators and streamers. It meets esports athletes' rigorous standards for audio fidelity, comfort and durability. The MixAmp Pro TR features Dolby Audio processing and enables lag and interference-free delivery of game sound and voice communication. The A40 TR arrives as an open-back headset featuring a swappable precision mic and customizable Speaker Tags.
All of the E-waste recycled in the US every year amount to more than 100 million pounds of materials, including plastics, metals, glass and other materials.
ESC refurbished product has been professionally restored to meet or exceed OEM quality and is in good working order. This means that each product has been thoroughly inspected, cleaned, and repaired to meet original manufacturer quality specifications. Each ESC Recertified product may or may not be in its original packaging.
30-day money back guarantee
Secure payment at checkout
YOU MIGHT ALSO LIKE