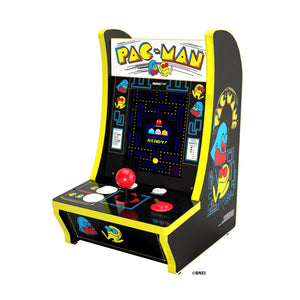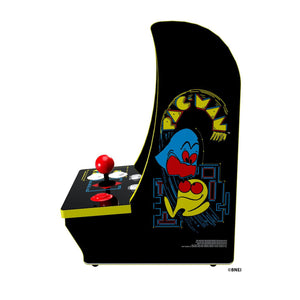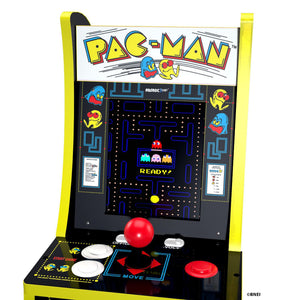 ARCADE1UP
Arcade1Up Pac-man Counter-CADE Arcade 5-in-1 Game
Step right up to the counter, and play away with Arcade1Up Counter-Cades! Perfect for home bars, offices, dorm rooms or anywhere else you'd want to squeeze in some retrogaming, Arcade1Up Counter-Cades are fully assembled right out of the box. Compact in size, but tremendous in fun! It's time to satiate that nostalgic arcade appetite (no matter what decade you grew up in), with a phenomenal five game lineup of BANDAI NAMCO Entertainment classics! Yep, first up we've got the icon of icons: Pac-Man™ in his original trailblazing incarnation, and then the amped up action of Pac & Pal™. Navigate Pac-Man™ through those infamous mazes while steering clear of those aggressive ghosts Blinky, Pinky, Inky and Clyde. Ready to switch it up? You've also got the underground antics of Dig Dug™, the cat-and-mouse antics of MAPPY™, and the combat and puzzle solving challenges of Tower of Druaga™. All included, all at your fingertips! Authentic gameplay, a vibrant, crisp 8" screen, and full size real-feel arcade controls. Arcade1Up Counter-Cades are THE way to bring that classic arcade experience home, even if you're short on space. Now that's some major counter appeal!
All of the E-waste recycled in the US every year amount to more than 100 million pounds of materials, including plastics, metals, glass and other materials.
ESC refurbished product has been professionally restored to meet or exceed OEM quality and is in good working order. This means that each product has been thoroughly inspected, cleaned, and repaired to meet original manufacturer quality specifications. Each ESC Recertified product may or may not be in its original packaging.
30-day money back guarantee
Secure payment at checkout
YOU MIGHT ALSO LIKE